Commercial Kitchen Exhaust Cleaning
Inland Empire & Orange County
IKECA Certified Hood Cleaning Specialist in Southern California
We are Certified Kitchen Exhaust Cleaning Specialists. We specialize in restaurant hood cleaning and servicing kitchen exhaust systems, filters, ducts, fans and roof tops in the Inland Empire and Orange County.
ProClean Cleaning Services is a proud member of the International Kitchen Exhaust Cleaning Association (IKECA).
They are the nationally recognized leader in certification. IKECA offers continuing education to members to insure that the best and highest standards are kept. We are concerned with the level of competency with our technicians, their knowledge of how the systems operate and how to maintain them so there are no interruptions in your kitchen operations. They are constantly updating our technicians with the latest development in numerous areas like green cleaning. Energy saving devices, better maintenance practices and many safety related topics. It is costly but it's the right way. Being a member means you have liability insurance, workman's comp insurance, commercial vehicle insurance and you have already passed the exam.
You can rely on us to do the dirty work that needs to get done.
Why aren't you using a certified licensed, insured, bonded, and experienced expert to maintain your kitchen exhaust system? This is your lively hood. A fire or break down of your system can bring your cooking operation to a stop.
We get this response all the time, "My Kitchen Exhaust Cleaner is certified—or they wouldn't be in business." Wrong. There are many un-certified companies out there. We run into them every day.
Call Proclean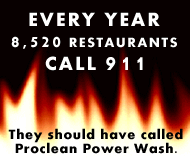 Just because some company has been cleaning your exhaust system for years doesn't mean that they are certified. Anyone can attempt to clean a system. In most cases the local authorities don't even know that kitchen exhaust systems need to be regularly cleaned. They don't even know what to look for. Health department inspectors typically only look for dirty canopies and easily visible conditions were grease from the filters or canopy can drip onto the food that is being prepared. Fire Department Personnel typically are not trained according to N.F.P.A. 96 standards (National Fire Protection Association). These personnel very rarely look behind the filters or get on the roof to inspect for excessive grease buildup.
Case in Point:
Here is an example from a local restaurant. The owner was extremely happy with his hood cleaning "guy"'. We tried to get him to let us give him a free inspection for over three years. He didn't want to be bothered since his hood cleaner was a nice guy and the hoods looked great after they were cleaned. He assumed this guy's company was certified because they had been in business for over 20 years. They must be certified, Right? We finally convinced the owner. to let us give him a free inspection. Here's what we found.
The hood cleaner was doing a great job on the areas that can be seen. But the areas that need to be cleaned in the duct and the roof fan and horizontal duct had over a half inch of grease buildup (N.F.P.A. 96 code states the maximum allowable build-up is 50 microns, the thickness of a sheet of paper). It was so bad that it was spilling over onto the rooftop!
A lot of restaurant owners/kitchen managers assume that their kitchen exhaust cleaners are certified because they couldn't be in business otherwise. Wrong. Anybody can attempt to clean because the authorities do not forcibly regulate this industry.
Let us help you answer these questions: Do you have faulty wiring? Are there leaks in your ducts? Do you need to install an access panel to properly clean your system to bare metal? Is your suppression system current? Is there anything that could cause an interruption in your cooking operation? Is your unit or its unit about to go out? (Waiting for a belt to fail can be very costly.) We will inspect the belt and will automatically replace it if it shows excessive wear. We will check for excessive bearing wear and notify you in our after service report.
You can rely on us to professionally clean your kitchen exhaust. Call (909) 794-0041 Today!