Commercial Kitchen Exhaust System Cleaning
Avoiding Fire Hazards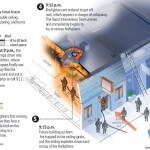 Your facilities can become
a fire trap. Take
advantage of our
expertise and services to
keep your kitchen safe.
Important Questions
Hood Cleaning:
common questions
you should be asking
your current kitchen
hood cleaner.
More Information
Find more information on
the kitchen exhaust
cleaning process.
Here is a restaurant that was brought to the attention of the local fire dept in 2008. Once again a picture of the same code violations a year later. Please understand we have a great respect for the fire department. They do a great job based on what personnel they have and the budgets they have to work with. They just don't have the budget to train someone to go around and look at these systems. They are simply under staffed and under budgeted. This restaurant was recently inspected by the local Fire dept. and passed. Remember the Boston fire.
Free training: We are always available for training of fire department personal, insurance agents, property owners, management companies facility managers, Engineers or anyone who is negatively impacted by unsafe and unhealthy conditions. We will review the N.F.P.A. 96 code and train them what to look for.
Why spend the money to clean areas that are not seen?
I have seen many restaurants that are spotless the kitchens are cleaned daily and are beautiful. Then we go on the roof and the grease is dripping off the fan units.
We can inspect your kitchen exhaust system.
Call (909) 794-0041